About Bad River Outdoors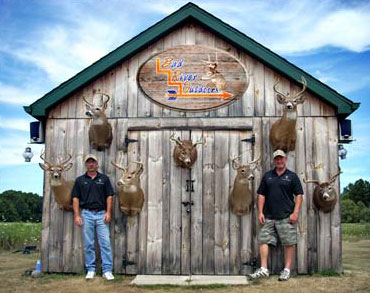 Bad River Outdoors began back in the fall of 2007 with the goal to bring a product to the archery industry that was seriously missing. A type of manual rangefinder that works when you really need it too! One that works while the hunter was at full draw, and it could continue ranging even while the animal was in motion. So that's what we did!
We started by putting together a rangefinder that would work on our favorite game to hunt, the whitetail deer. After several months of engineering and dozens of proto-types, we finally did it! We knew we had a product that was ready to explode into the bowhunting world.
Starting at the 2008 ATA trade show, Bad River Outdoors was a success. We received rave reviews on a product that was really never seen or heard of before. But because it was not some type of hi-tech electric rangefinder, we had our skeptics. They believed something so simple couldn't actually perform like we said it could. But Bad River Outdoors stood its ground, and with thousands of satisfied customers, we are now into our fourth year of manufacturing. We now offer a full line of archery range finders that covers most all North American big game species.
Bad River Outdoors didn't stop there. We created an Extreme model line of rangefinders that is designed for some of the top sight manufactures in the industry today. These models take it to the next level. They are sight specific and constructed out of solid aluminum and coated for low light conditions.
Not content with the sights that are made for crossbows, our next project was to build a crossbow sight that is at the top of the list as being one of Bad River Outdoors hottest new products. The Tagged Out Crossbow Sight is the best crossbow sight ever!
Bad River Outdoors is truly committed to the costumers that keep our drive alive. We will continue to innovate and provide top end products that provide our customers with a confidence in us and with the product that makes them successful in their hunt. While of course staying true to the Red, White and Blue by keeping all our manufacturing 100% in the U.S.A.